Our first Children's Home has been sited for the past 9 years in Amaba, Isuikwuato Local Government Area. We reside in a large compound with a two story building that was donated to us 9 years ago. Through the kindness of the man and his family, who gave up the home for our use, we have had a stable location to call home. We have continued to make adjustments throughout the years to best accommodate TWCF's vision and care for the children as we have grown.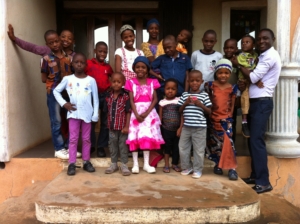 The home is two stories, and while constructed in an odd way with various rooms/spaces, we have been able to set 8 bedrooms up for children and staff, 1 office, 1 living room, 1 dining room (which doubles as a classroom), 2 classrooms, 1 store room, and 1 kitchen. We have 3 bathrooms in the house (toilets and baths) but only two are functional, and as we do not have running water, or borehole on site, we bucket water throughout the house daily, and both flush toilets and bath with bucket water. While we have been connected to a local power supply for several years now, it is rare to see any light. We have been so blessed with our generators that were donated, as they provided us with four hours of light regularly in the evenings. We have been able to finish out compound wall and top it with security over the years, as well as build a generator shed, a chicken coop and a guard house. Our guard house has not actually been used for a security guard, but rather as an extra classroom. It is currently being converted into a 9th bedroom quarters for house staff/NYC who will serve with us.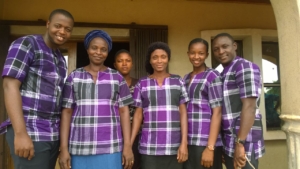 We have plans drawn up to add a second floor to our guardhouse, as well as to add a two story, 8-room building out the back of the compound. We have really run short on space in the last year, and have not taken new children since January (other then a specific case of 2 girls in May). We are eager to start this project and hope to raise funding to begin in January. It will help make daily life much easier for the children and the staff as there will be designated classroom spaces, office space, counselling room, and much needed staff/guest rooms, as well as an extra 2-3 bathrooms.
Our children in the Amaba Home are doing well, they are healthy and every day show great progress and resiliency.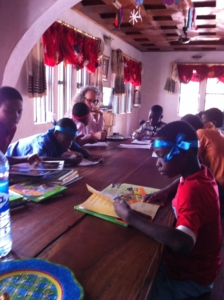 They have learned to come together as family and friends, to share and care for one another, and learn when to take time outs on their own. We are amazed and so proud of our children, and eagerly anticipate every new day and their futures, which are filled with great hope.
Daily routines include everyone getting up between 6:30-7am, getting house chores done, and ready for the day, breakfast is by 8am with Bible devotion finishing
at 9am. The children hurry off to their respective classes and do not come together until 1pm when it is lunchtime. there is quiet time or nap time for no more then an hour, and classes resume around 2:30pm. Classes finish for the day around 4:30, and three days a week we have P/E games which take us to bath time at 6pm. Dinner is at 6:30 – 6:45pm, and bed time by 8-9pm. During various free time breaks in the week and especially on the weekends, there is lots of games, crafts, lego and sports that happens. They children work/play and are are much happier with structured time. As they are able we start to allow less structured free time.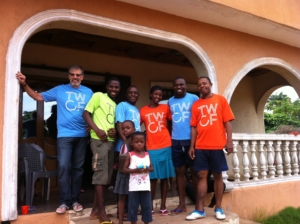 The children help with various chores around the house, all of them (except our little ones) keeping their beds made and rooms swept, they help clean their classrooms, do laundry and dishes, help with setting the table and serving meals, feeding the chickens, tending to the garden. All of them love being helpers and spending time with the staff or adults.
We also rotate turns with the children to go with staff to the local market, or make the trips to the city for big market and errands. They enjoy their turns and learn more about life and their culture by being exposed to it in a positive way.